Chevrolet Teases 2022 Bolt EUV and Bolt EV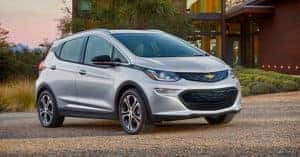 While you may not be able to get your hands on them until 2021, you can still get your fix of the Chevrolet Bolt EV and the all-new Bolt EUV. Chevrolet offered a sneak peek of the electric vehicles that will be a part of its 2022 lineup.
While the images that Chevy released don't show much, they still show enough to see some of the differences between the vehicles. The 2022 Bolt EUV has a smoother silhouette and is larger than the Bolt EV.
It has about five more inches of length and three more inches on the wheelbase. One final feature you can see from the images is the wraparound taillights on the Bolt EUV which help it differentiate itself from the EV as its own model.
Expected features on the Bolt EUV include a roof rack to bring more utility and a sunroof to offer another way to bring light into the cabin. It's also expected to offer Super Cruise, helping you stay a safe distance from other cars on the road ahead of you.
The Bolt EV will receive upgrades for the 2022 model year like more comfortable seats and Chevy's latest infotainment system. It even gets an upgraded dashboard and gear selector buttons, so while it's not all-new for 2022, the Bolt EV is staying fresh.
Pay us a visit at Hammer Chevrolet today and tell us which new Bolt you're most excited for.