National Park Road Trips Near Sheridan, Wyoming
Chevy vehicles can help you see the many beautiful national parks around the area. Sheridan is a great in-between stop for many favorite natural attractions. Here are three stunning national parks that our team at Hammer Chevrolet thinks you should check out.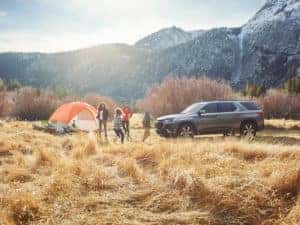 Yellowstone National Park
The wondrous Yellowstone National Park is located in northwest Wyoming, only 200 miles west of Sheridan. Here, you can explore thermal basins and witness hot springs and geysers. You can hike nearly 1,000 miles of trails or take a guided ride on a horse to experience the mountains and wildlife up close.
Grand Teton National Park
The mountains are calling you at Grand Teton National Park. The striking peaks of the 40-mile-long Teton Range make this a remarkable place to hike and camp. Grand Teton National Park is only 10 miles south of Yellowstone National Park, making it a great addition to your road trip.
Badlands National Park
Experience the rugged beauty of the Badlands National Park, located in southwestern South Dakota. With more than 244,000 acres of grass prairie and eroded buttes and pinnacles, the Badlands contain one of the world's richest fossil beds.
Explore the natural beauty surrounding Sheridan, Wyoming, with some of these national park road trips.