The Benefits of Buying a Used Chevrolet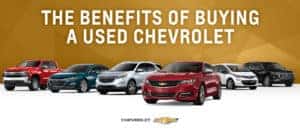 Buying a used Chevrolet is a wise investment with many benefits. Not only are used Chevy vehicles incredibly reliable, but you can choose from more options that fit your budget. Here at Hammer Chevrolet in Sheridan, Wyoming, we have a great selection of used Chevy models, so you're sure to find one that fits your needs. If you're looking for a dependable and affordable car that is new to you, consider buying a used Chevrolet.
Save money
One of the biggest benefits of buying a used Chevy is that you can save money by buying the vehicle at a lower price. If you're taking out a loan, you can enjoy a smaller initial down payment and smaller monthly payments. You can probably pay off that loan faster, too. On top of the cost of a used Chevy, there are also other ways that buying used can save you money in the long run. With a used Chevy, you can also save on auto insurance since used vehicles cost less to insure than new ones. Other areas of savings include the vehicle's registration fee and total amount of interest over the course of your loan.
Avoid depreciation
Another way you can save money by choosing a used Chevy is by retaining its overall value. As soon as you drive a new car off the lot, it instantly goes down in value. That's called depreciation. When you buy a used Chevy, you don't have to take that hit and you won't lose as much money immediately. Buying a used Chevy means the vehicle will also depreciate more slowly as it ages. In the end, there is a higher value in buying a used Chevrolet model since there will be less overall depreciation.
Stretch your budget
When you buy a pre-owned Chevy, you are able to stretch your budget and buy features you may not otherwise have been able to afford. When you shop a used inventory, you could get a higher trim of a used Equinox at the same price as the base trim of a new model. Enjoy the infotainment technology and safety features that come with mid-level or top level used Chevys that you can now afford.
Reliable history
Chevrolet vehicles are built to be durable, and they can last for many miles and years. You can easily find information about the reliability of a used Chevy by searching online or asking our team at Hammer Chevrolet. Anyone can access the vehicle history report of a used car so you'll know exactly what maintenance it has undergone in the past. Not to mention, you can plan for any possible maintenance in the future under your care.
Certified Pre-Owned benefits
If you're worried about having protection on your pre-owned model, consider buying a Certified Pre-Owned Chevy. CPO vehicles must meet certain requirements, providing additional peace of mind with a higher level of protection like warranties and other extra benefits. Hammer Chevrolet has an extensive CPO lineup featuring Chevy vehicles that are hand-selected to meet your standards. Every one of our Certified Pre-Owned Chevrolet vehicles are less than six years old, have fewer than 75,000 miles, and come with a clean title. Our CPO Chevy vehicles also come with an Extended Powertrain Limited Warranty that includes Roadside Assistance and Courtesy Transportation as well as an Extended New Car Bumper-to-Bumper Limited Warranty. We also complete a rigorous 172-point vehicle inspection on every vehicle that earns the Certified Pre-Owned title, so you know you're getting a high-quality vehicle.
Interested in taking a used Chevy for a test drive? Don't hesitate to reach out to our team or visit us at Hammer Chevrolet in Sheridan, Wyoming.