Tips to Get Your Truck Out of Mud When Off-Roading in Sheridan, WY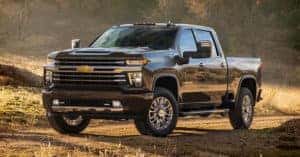 If you own a Chevrolet truck like the 2020 Silverado 1500 or the 2021 Colorado, you're going likely going to take it off Sheridan, Wyoming's paved roads sometime — and that may result in getting stuck in the mud sometimes.
If you find yourself in that frustrating situation with no one to pull you out, these techniques can help you get your truck out of the mud so you can keep rolling onward.
Inspect the path
The first thing you should always do is exit your truck and look all around it. This will make sure you're fully aware of any unusual elements or hazards that could impede your route out of the mud. Remove any obstacles or hazards around you.
Slightly deflate the tires
Deflating the truck's tires a bit will improve their traction in the mud and increase your odds of getting unstuck.
Reduce the mud's slickness
Make it easier to climb out of the mud by covering the mud with sand, twigs, gravel, or even your floor mats. Find something that can make the mud tougher and less slippery.
Z71 Off-Road Suspension Package
Available for both the Chevy Silverado and Chevy Colorado, the Z71 Off-Road Suspension Package includes a variety of items that could help get your truck out of mud, such as All-Terrain Tires and an HD Rear Vision Camera. It's a must-have if you plan on taking your truck off-roading.
For more information on the Z71 Off-Road Suspension Package and to buy a truck with it, contact Hammer Chevrolet.